Blog
Annie's first article for 'Special Children' magazine  http://www.optimus-education.com/shop/special-children  will be published later this month. Annie wrote the copy and took the photographs featured.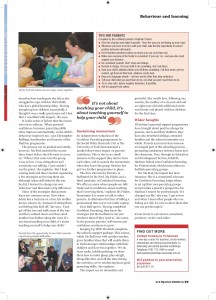 The article, called 'Confident Parenting' focuses on Hadrian School, an outstanding special school in Newcastle that runs parenting groups for families of children with complex needs and challenging behaviour. On the course, parents/carers explore behaviour management strategies and support each other. The impact of the course is far reaching.
As well as offering the course for families of its pupils, Hadrian School also runs a course aimed at teachers, social workers, educational and clinical psychologists who work with children with additional needs and challenging behaviour, which trains professionals in the successful delivery of parental workshops. For more information contact HEADS Office, Hadrian School, Bertram Crescent, Newcastle upon Tyne, NE15 6PY. Telephone: 0191 273 4440 or email david.palmer@hadrian.newcastle.sch.uk
New groundbreaking national online training for teachers of learners with severe, profound and complex learning difficulties will be launched at a conference at the University of East London tomorrow. The training is available free on the DfE website. Atomic Productions produced all the video, audio and photographic assets for this project along with three videos promoting teaching in special schools. You will be able to view some examples of our work for this resource in the 'Our videos' section of the website but, if you can't wait, you can browse the resource now by using the following link, http://www.education.gov.uk/complexneeds.
Three Atomic Production video case studies were launched to at the held at the Charing Cross Hotel today. The conference, which was attended by delegates from schools, universities, local authorities and voluntary organisations focused on models of good practice. Speakers included Lorraine Peterson, CEO NASEN; Mel Byrne, Amelia Roberts and John Rack from the Dyslexia-SpLD Trust; Jane Beaulmont from the Cornwall Dyslexia Service; Margaret Rooms from Dyslexia Action; Yvonne Whitestone, Head of Education at the Helen Arkell Dyslexia Centre; Professor Greg Brooks from the University of Sheffield and Professor Sonia Blandford from Achievement for All. The three videos featuring Cornwall Local Authority, Tideway School and the Helen Arkell Dyslexia Centre/Collingwood College are now on the Dyslexia-SpLD website – www.interventionsforliteracy.org.uk